Skip to content
Nexus Circular accelerates circularity so people and the environment thrive by leveraging technology that outperforms, operations that scale and people that deliver.
We have a viable solution today at full commercial scale. And we are on a trajectory to convert 20 billion pounds annually of hard-to-recycle plastics into circular materials by 2030 to support our global partners' sustainability commitments.
Advanced recycling. Accelerated. Learn more at www.nexuscircular.com
HSE Manager
Job Title

HSE Manager
Job ID

27711383
Location

Atlanta, GA 30253
Other Location
Description

Role Overview




We are seeking an experienced Construction HSE Manager to join our team and support the construction, startup, and ongoing manufacturing process to ensure that all regulatory requirements are met. In addition, this position will develop the Process Safety Management (PSM) program and ensure that appropriate understanding, training, and adherence is applied by all members on a daily basis. This position will also create processes that will be used to scaled future sites.





This role reports to Nexus Circular's McDonough Plant Manager.




Responsibilities

Review contractor safety plans and ensure implementation is in place for each project.

Ensure that OSHA standards are being adhered to by all parties.

Assess organizational capability and requirements, identifying tactics to improve performance, and developing strategic approaches to proactively manage risk

Provide review, and oversight, of construction Health & Safety management procedures

Oversee subcontractors and contractors safety programs to ensure competency

Continually encouraging, and promoting, Health & Safety initiatives aimed at influencing positive safety behavior on all projects

Conducts incident/injury intervention as required

Is expected and has the authority to stop unsafe actions and behaviors on the project site.

Maintain EHS performance scorecard information, reporting dashboard and deliver summary overviews and related communications to stakeholders.

Problem solving, issue-resolution, attention to detail, and balance multiple priorities

Perform regular site safety audits and prepare formal audit reports

Lead Contractor Safety Meetings

Monitor the performance of safety critical tasks. Work with contractors, subcontractors and Nexus Circular employees to ensure proper safety best practices are being implemented.

Issue work permits as needed.

Develop and implement PSM process for the site.




Requirements




Education

Bachelor's Degree in Safety and Health Environmental Science, Occupational Health and Safety, Industrial Hygiene, related field AND 4+ years experience in Environmental Health and Safety Worldwide Regulations

OR equivalent experience.




Experience

4+ years of professional experience in leading EHS improvement activities

Demonstrated working knowledge of U.S Occupational Safety and Health Administration (OSHA) regulations, and other non-regulatory safety standards applicable to the location of operations.

PSM experience

Ability to transition from construction EHS to manufacturing HSE

Knowledge, skills, and abilities

Personable and willing to collaborate within a team.

Excellent verbal/written communication skills.

Analytical and familiar with incident investigations and reporting

Ability to manage multiple projects on different timelines.

Comfortable in a fast-paced, purpose-driven, collaborative environment

Demonstrate a strong desire to learn manufacturing processes.




Compensation

The Company will offer a competitive salary, bonus and attractive equity as well as a benefits package.


Benefits:

Eligible to contribute to Company's Traditional 401(k) and Roth 401(k) upon hire with Company Contribution

Medical, Dental and Vision coverage at 100% for employee only levels.

Multiple comprehensive coverage levels for Medical, Dental, & Vision

Group Health & Wellness Program, plus special savings on retail items, travel, entertainment, and more through Insperity Works

Flexible Spending Accounts and Health Savings Accounts

Basic and AD&D Life Insurance

Voluntary benefits, including short-term and long-term disability insurance, accident, critical illness, and hospital confinement insurance.




Note: The above statements are intended to describe the general nature and level of work being performed by the incumbent. They are not intended to be construed as an exhaustive list of all responsibilities, duties and skills required of this position.






Nexus Circular Is an Equal Opportunity Employer. All qualified applicants will receive consideration for employment without regard to that individual's age, race, color, religion or creed, national origin or ancestry, sex (including pregnancy), sexual orientation, gender, gender identity, physical or mental disability, veteran status, genetic information, ethnicity, citizenship, or any other characteristic protected by law. Nexus Circular provides reasonable accommodation when requested by a qualified applicant with a disability unless such accommodation causes an undue hardship.






Statement to Third-Party Agencies: Nexus Circular only accepts resumes from agencies with which we formally engage their services. Please do not forward any resumes, as Nexus Circular is not responsible for any fees or charges associated with unsolicited resumes.





If you require alternative methods of application or screening, you must approach the employer directly to request this as Indeed is not responsible for the employer's application process.






Option 1: Create a New Profile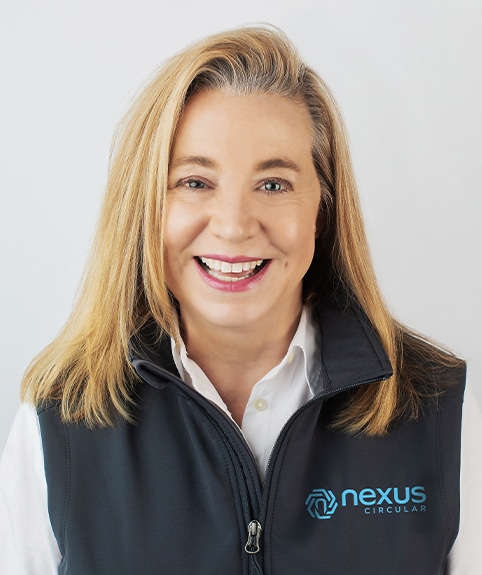 Jodie brings over 30 years of manufacturing leadership experience, having built and led 5 companies as CEO/President and 3 of those companies with an ESG focus.
Most recently, Jodie served as the CEO of GreenMantra Technologies, a privately-held early- stage advanced recycler of waste plastics to specialty waxes. Previously, she was President of Pinova, a PE-backed manufacturer of specialty chemicals from renewable resources.
Currently, she serves on the boards of NanoXplore (TSX) and Bartek Ingredients (PE backed) and is active with The National Association of Corporate Directors and The Women Corporate Directors.
Jodie earned degree in Mechanical Engineering from the University of Delaware and holds an MBA in Finance from West Chester University of Pennsylvania.