Skip to content
Nexus Circular accelerates circularity so people and the environment thrive by leveraging technology that outperforms, operations that scale and people that deliver.
We have a viable solution today at full commercial scale. And we are on a trajectory to convert 20 billion pounds annually of hard-to-recycle plastics into circular materials by 2030 to support our global partners' sustainability commitments.
Advanced recycling. Accelerated. Learn more at www.nexuscircular.com
Sr. Portfolio Manager
Job Title

Sr. Portfolio Manager
Job ID

27716263
Location

Atlanta, GA 30336
Other Location
Description

Nexus Circular is the commercial leader in advanced recycling technology that converts landfill-bound plastics into circular feedstocks for the production of sustainable virgin plastics for packaging and other applications. Nexus Circular's end-to-end solution is economically validated as demonstrated by consistent bulk sales of high quality, ISCC Plus circular feedstocks for virgin plastic production. Aligned with global partners who seek proven scalable solutions to meet ambitious plastic circularity goals, Nexus Circular is rapidly expanding its innovation footprint worldwide, moving decisively to address the complex challenges of plastics accumulation in the environment.
Nexus has built an outstanding culture. We are looking for people to contribute to a fast-paced, environmentally committed business that is focused on growth and sustainability. We are very collaborative, transparent, data driven, value diverse perspectives and are looking for constructive initiatives and new ideas. We are looking for self-starters and independent thinkers who work collaboratively in teams. Given the growth stage of Nexus, we are also looking for people who are comfortable moving between strategic thinking and executing those ideas to take Nexus to the next level.

Role Overview:

As a Sr. Portfolio Manager - Feedstock Technology & Operations at Nexus Circular, you will play a pivotal role in advancing our plastic recycling technology and operations. Working closely with the VP of Engineering, you will contribute your technical expertise, market knowledge, and project management skills to drive the evaluation, development, and implementation of cutting-edge feedstock processing technologies. Your strong engineering background, commercial experience, problem-solving abilities, and project management acumen will be instrumental in developing recycling processes and supporting the organization's vision for expanding our plastic processing capabilities.

Job Responsibilities:

Collaborate with the VP of Engineering to evaluate and assess emerging feedstock processing technologies, conducting research and providing technical insights to inform decision-making.

Lead and actively participate in the design and testing of innovative recycling processes and equipment to enhance feedstock processing capabilities.

Manage projects related to feedstock technology development, from inception to successful implementation, ensuring timelines, budgets, and deliverables are met.

Conduct feasibility studies and technical analyses to support business cases for new recycling technologies and process optimization initiatives.

Develop and maintain relationships with external technology providers, research institutions, and potential partners to explore collaboration opportunities and stay abreast of industry advancements.

Assist the VP of Engineering in presenting project updates, progress reports, and technical findings to executive leadership and stakeholders.

Ensure compliance with safety regulations, environmental standards, and quality protocols related to feedstock processing operations.

Mentor and provide guidance to junior engineers, fostering a culture of continuous learning and skill development.




Basic Qualifications:

Bachelor's degree in Engineering or a related field.

Proven experience (at least 7-10 years) in plastic material handling, plastic recycling, or a related engineering domain.

Strong project management skills, with a track record of successfully executing complex engineering projects.




Preferred Qualifications:

Expertise in evaluating opportunities and technology partnerships in the plastic recycling industry.

Familiarity with circular economy principles and sustainable feedstock utilization practices.

Strategic thinking and business acumen, with the ability to analyze market trends and identify growth opportunities.

Excellent communication and presentation skills, capable of effectively communicating technical concepts to diverse audiences.




Benefits

:

Eligible to contribute to Company's Traditional 401(k) and Roth 401(k) upon hire with Company Contribution

Medical, Dental and Vision coverage at 100% for employee only levels.

Multiple comprehensive coverage levels for Medical, Dental, & Vision

Group Health & Wellness Program, plus special savings on retail items, travel, entertainment, and more through Insperity Works

Flexible Spending Accounts and Health Savings Accounts

Basic and AD&D Life Insurance

Voluntary benefits, including short-term and long-term disability insurance, accident, critical illness, and hospital confinement insurance.




Note: The above statements are intended to describe the general nature and level of work being performed by the incumbent. They are not intended to be construed as an exhaustive list of all responsibilities, duties and skills required for this position.





Nexus Circular Is an Equal Opportunity Employer. All qualified applicants will receive consideration for employment without regard to that individual's age, race, color, religion or creed, national origin or ancestry, sex (including pregnancy), sexual orientation, gender, gender identity, physical or mental disability, veteran status, genetic information, ethnicity, citizenship, or any other characteristic protected by law. Nexus Circular provides reasonable accommodation when requested by a qualified applicant with a disability unless such accommodation causes undue hardship.





Statement to Third-Party Agencies: Nexus Circular only accepts resumes from agencies with which we formally engage their services. Please do not forward any resumes, as Nexus Circular is not responsible for any fees or charges associated with unsolicited resumes.





​​​​​​​
Option 1: Create a New Profile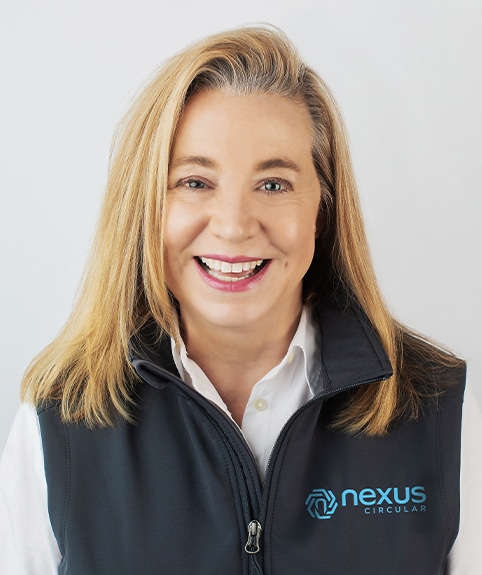 Jodie brings over 30 years of manufacturing leadership experience, having built and led 5 companies as CEO/President and 3 of those companies with an ESG focus.
Most recently, Jodie served as the CEO of GreenMantra Technologies, a privately-held early- stage advanced recycler of waste plastics to specialty waxes. Previously, she was President of Pinova, a PE-backed manufacturer of specialty chemicals from renewable resources.
Currently, she serves on the boards of NanoXplore (TSX) and Bartek Ingredients (PE backed) and is active with The National Association of Corporate Directors and The Women Corporate Directors.
Jodie earned degree in Mechanical Engineering from the University of Delaware and holds an MBA in Finance from West Chester University of Pennsylvania.